Working Design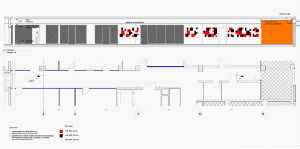 A logical continuation for the facility sketch design is the working design development. Upon approval of the facility general view and the essential layout solutions, it is necessary to prepare drawings, working documentation and work out the technical aspects.
The working design specifics
If compared with sketch design, working design is the final documentation package, which is often necessary to agree upon and send for expertise. Therefore, it must comply with all applicable building regulations.
Working design implies possibility to perform all the construction works based on the documentation developed, which requires:
accurate sizes and locations;
detailed specification of all the materials used;
presence of cross-sections, junctions and other drawings for understanding the operating procedures and, especially, the complex elements technology;
full conformity between the architectural and engineering sections.
A quality working documentation enables to carry out any construction, installation and fit-out works without any questions and necessity for "on-the-spot" inventions. Its accuracy shows the design engineer professionalism.
The working design and construction cost
In comparison with the total cost of the construction the expenses on preparation of documentation make inconsiderable amount of about 3-5% of the "turnkey" facility entire cost.
The cost of working documentation depends on the size of the building or premises, the local specifics of the facility, the complexity of the brief design.
We believe that economizing at this stage of designing is impractical; it's only the detailed working design that allows to accurately calculate the cost of construction works and avoid additional expenses in future. Moreover, competent and fully compiled documentation will allow the foreman to understand the amount of work and to implement the architectural intent. And for the client part- it is a document by which he will require quality results.
It is important to know that the working design, the price of which may vary depending on the client's needs, is a paper version of the building, which is ready for construction - in a structural and legal sense. This document covers all the required technical issues, allowing to avoid further discussions on the content and technology of work.
Our services for facility design automatically include the interior of the building or the premises. At the client's request, as an additional service, the working design may include landscaping, design of adjacent buildings, fences, small architectural forms, etc.
We suggest you to see the prices for the premises working design below.
| | | |
| --- | --- | --- |
| Int-Ext Company Services | Unit | Price in Rubles Including VAT |
| Interior working architectural design based on sketch design | m2 | from 150 |
| Interior working architectural design, including initial development of the concept and sketch design | m2 | from 250 |