Store Design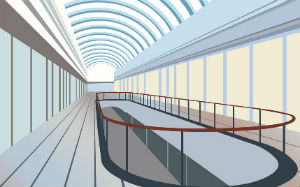 Store design is an important stage in planning the future building: it precedes the purchase of special store fittings. A successful design and correct arrangement of equipment can increase the profits of the company several times over. Therefore, it is important not just to make a beautiful interior design of the store, but also to optimize trade and technological processes.
Int-Ext engineers and architects will perform store technological design, develop the most efficient layout and choose the best store fittings. We successfully solve any challenging problem with the help of our experienced professionals, individual approach to our clients and considerable experience in designing of stores and shopping centers.
Stages of store design
1. Zoning and layout. The shopping hall is divided into main areas: product groups, promotion, service areas and entrance areas, with indication of the customer flow direction. Then, there are defined the configuration and location of the following zones: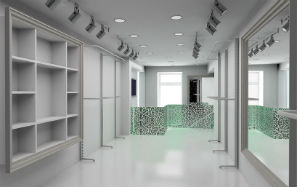 acceptance of goods;
product storage (cold storage);
technical room (electrical distribution board room, engine room);
major passages of the goods flows;
products pre-sell processing and preparation units;
household and office premises;
guard posts;
retail space.
The first phase of the store design development ends with the zoning plan approval.
2. Shopping hall layout. The store (shopping hall) design is being developed, store fittings are selected and their arrangement is thought over. In the end it is the approval stage of the store design, measurement drawings, passages in the shopping hall, and complete trade equipment with components.
3. Store fittings specification. A specification for store fittings, consumables, machines and cooling chambers is drawn up. The client receives a comprehensive specification with the prices of:
store equipment;
delivery of store fittings;
consumables;
equipment installation;
warranty and post-warranty service.
This stage is finalized by approval of the specification with the client.
4. Delivery of the full set of design drawings. At this stage of the store design a design brief, as well as design drawings for electrical works, water pipe and sewerage are provided. We also develop the design with location of workshops, refrigerated warehouses, refrigeration systems, installation diagrams and pipeline laying, electric circuits, and heat exchange equipment.
We work closely with our clients at all stages of the store design. When making the layout we use dedicated software which allows to create a beautiful and accurate drawing of the future store. We do our best to implement all your ideas and to respond to your slightest wishes.