Interior design of shops
According to statistics, most of the people, among other things, take the decision to purchase something under the influence of their first impression of the store. Therefore, a unique and functionally well-designed interior is one of the main tools to attract customers and increase the profitability of the business as a whole.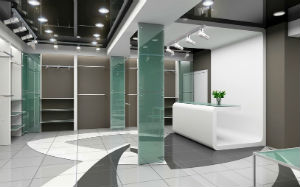 Properly designed and successfully implemented sketch-design of a shop with 3D visualization will potentially solve the following issues:
increase the loyalty of potential clients;
create an attractive environment in which the client can navigate and easily find items of interest;
create comfortable working conditions for employees;
demonstrate superiority over competitors and increase in demand due to the original shop interior concept design;
correct positioning of the goods;
give a boost to sales growth and profitability of the establishment.
Design nuances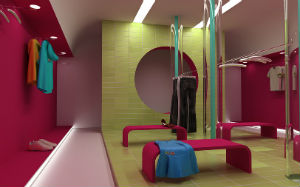 Development of a sketch-design of a shop is a quite special process. It takes into account the characteristics of premises, the specifics of business and goods, the target audience, and the basic principle of service. The more delicately and interesting these details are played with in the shop interior design, the better is the end result.
Of course, here one of the main tasks of designers is to create a unique, easily recognizable style. But equally important is the functional organization of space. In this respect, special attention is paid to correct zoning of shopping area, design of technical areas, cash desks, dressing rooms and shop windows. The buyer's convenience comes first in the sketch-design of a store.
Our offers and advantages
Int-Ext offers a full range of design services to retail outlets. The scope of activity of our specialists include:
development of a store sketch-design with 3D visualization;
selection of necessary furniture, equipment and materials;
working out a design of engineering systems.
As a result of cooperation you'll get the entire package of documents required for the high-quality implementation of the design.
Our key advantages in this area are comprehensive and client-oriented approach to solving the tasks assigned, focus on advanced technology and materials, observance of strict deadlines and constantly successful results.
The shop interior design by Int-Ext is your greatest advantage in the competition for customers. Contact us!