Electrical Power Supply Design
Electrical Power Supply Design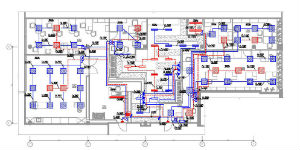 Int-Ext Company will perform the full range of work on electrical power supply design for offices, restaurants, cottages and other facilities. In the scope of these activities our specialists envisage basic and emergency power distribution systems. If there is a power supply interruption in the permanent circuit, a backup power source for gas-, diesel-, and gasoline generator is automatically switched on.
Electrical design concept is carried out in accordance with applicable laws and regulations. The design is developed with a special focus on the electrical safety rules. Therefore, any electrical power supply design includes power circuits with protection against indirect and direct contact, as well as a fault current. To include such protection in electrical design concept we make provision for the following appliances and measures:
protective cutout device;
safe voltage of 12V for chains enabling control of lighting devices;
circuit breakers;
grounding systems.
The electrical power supply design package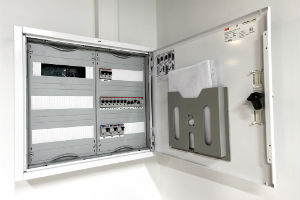 Any electrical design, developed by our specialists, includes:
an explanatory note;
general information on the facility;
calculations and schemes for placement of supply networks and distribution electrical switchboards;
energy consumer load calculations;
cable and equipment layouts;
calculations for the ground loop;
specification of the electrical equipment;
diagrams and calculations of emergency power supply systems.
Calculation section of the electrical power supply design includes accurate data on the power network in accordance with an admissible voltage drop, power supply (stabilized and diesel), grounding system, short-circuit currents.
The electrical design graphic section is a plan, on which the following electrical power supply systems are marked:
electrical sockets;
power and low-voltage cable runs;
ground loop;
inner lighting lines;
distribution switchboards;
electrical units, diesel generator sets and stabilizers.
When designing the electrical power supply we additionally point out:
the waste water treatment plants;
the power equipment of ventilation and air conditioning systems;
the heating equipment;
the electrical equipment for hot water supply;
the garage, bath electric power supply units
Int-Ext Specialists will draw up the electrical networks and systems design quickly and accurately in compliance with all required laws and regulations, and will ensure control of further installation work.