Design of Ventilation and Air Conditioning Systems
Design of Ventilation and Air Conditioning Systems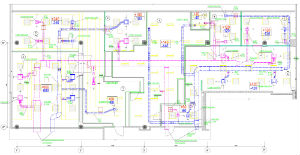 Design of ventilation and air conditioning systems (HVAC) is performed on the basis of design brief, architectural drawings and the building interior concept design. In the process of drafting the HVAC design the Int-Ext design engineers have in view the need for its further approval from the relevant authorities (the client's technical supervision, the building engineering service, the Federal Service on Customers' Rights Protection and Human Well-Being Surveillance, the Moscow United Energy Company).
Ventilation and air conditioning systems designing includes several steps:
Preparation of data for the design initiation. To proceed with the quality documentation, it is necessary to:
get the technical specifications from the premises owner;
get the architectural layout of partitions and ceilings;
get the design brief;
select the design parameters of the external and internal air, compliant with applicable regulations of the Russian Federation;
select the most suitable ventilation scheme.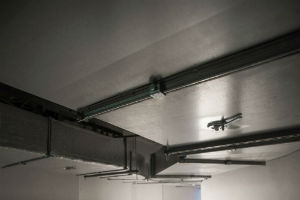 Construction of the air processing operations on I-D diagram. This allows to later calculate and determine the volume of moisture, heat and harmful gases inflowing into the premises: this step is necessary for the design of HVAC systems.
Air change tabulation. We draw up an air exchange table based on ventilation rate norms or the calculation of produced excess heat, water generation and emissions of harmful gases. This allows proceeding to the next step - drawings.
Drawings. For selection of the air ducts and pipe diameters cross-sections an aerodynamic calculation of air ducts and pipelines hydraulic calculation are done. Based on these data the air ducts network and piping systems are being designed.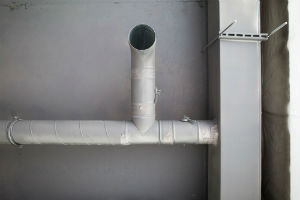 Selection of equipment. At this stage of HVAC systems designing the necessary equipment is selected: chiller fan coil systems, split systems, VRV-systems, air units. When choosing ventilation units there are also being selected accessories like heat exchangers, storage tanks, pumping groups, etc.
Development of automation functional scheme. The final stage is the development of automatic control systems functional scheme.
Int-Ext specialists are always ready to develop conditioning and ventilation design for you in compliance with all required standards. The cost of the design of HVAC systems is calculated individually in accordance with the features of the premises and the client wishes.