Int-Ext Architectural Office
It's well-known that the quality of the design work imperative in the final outcome of any major construction. Approved design becomes an integral part of the construction documentation, and the result of conducted works is checked against it. A quality design is necessary for any major construction or refurbishment, otherwise money investment in construction site becomes a 'Russian roulette'.
Absence of a design or inaccuracy in it, or failure to comply with the necessary rules and regulations may lead to a number of negative consequences:
claims of government supervisory bodies, refusal to approval;
deterioration of functionality and reliability of building structures, their reduced lifetime;
discomfort in the workplace, harm to human health;
threat to life and health in the event of fire or accident.
Therefore, saving on design services often leads to still more expenses on remodeling of the existing one. These costs, in line with wasted time and energy, obviously show that the development of drawings and working documents are better to be entrusted to an experienced project company or architectural office.
In the course of its career Int-Ext Architectural Office implemented numerous projects and found favor with a large number of its clients. Our goal is to fulfill design works entrusted to us with high quality and in an operative manner, using advanced technologies, modern equipment and materials.
Our services
Int-Ext Design Company offers its clients a wide range of services:
1. Architectural design. This is a fundamental stage of any construction. This kind of design work includes the development of proposals and sketch design with attention to the client's wishes. Generally, the design developed by our architectural office, includes:
explanatory note;
planning decisions with all of the elements considered;
the necessary parts, components, sections;
specifications of building and fit-out materials.
2. Engineering design. This important design work includes the development of internal engineering systems, which include:
power supply and lightning protection;
structured cabling networks;
heating, ventilation and air conditioning;
water supply and sewerage;
fire alarm and fire extinguishing systems;
access control, video surveillance, burglar alarm.
Engineering design is performed in two stages:
2.1. Design solutions development. At this stage the concept of the future engineering systems is developed, specifications of the equipment are defined, calculations are made and diagrams of the trunk routes are drawn. This step allows to understand the overall budget for the engineering systems installation without making big investments and at a moderate design cost.
2.2. Detail elaboration of engineering solutions. In the second stage the equipment is finally chosen, all the main tracks, schemes and units are drawn in details, and the ready working design of engineering systems is approved by the client.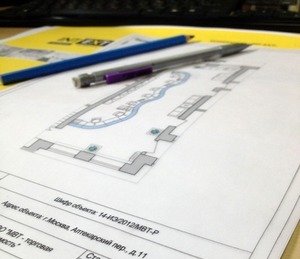 3. Comprehensive design. Versatile approach of Int-Ext design company implies a design drafting of a building or premises as a whole. The specialists of our architectural and design office render comprehensive design services to the following sites:
offices;
stores;
restaurant;
banks;
hotels.
Fulfilling comprehensive design works Int-Ext design company develops all the necessary documentation:
design project;
architectural solutions;
constructive solutions;
engineering systems;
special sections (technology, etc.).
Advantages of cooperation with us
Contacting us you will benefit in the following:
Professionalism. Only experienced specialists able to carry out projects of any complexity are working with us. We monitor the design development quality and the calculations accuracy.
Speed. We carry out each project as quickly as possible, within the period necessary to keep the tip top quality.
A full scope of services. We always strive to fulfill all the design works, accompanying the client at all stages of the task implementation.
Affordable design prices. Our company's policy implies maintenance of reasonable market prices and loyalty to customers.
Full consultation. Should you have any questions, our experts will advise on, and provide detailed information about the relevant topic.
If you are interested to order design works in Int-Ext Architectural office or you need prior consultation with our specialist contact us at: +7 495 135-0-777. It will be our pleasure to help you!