Architectural Design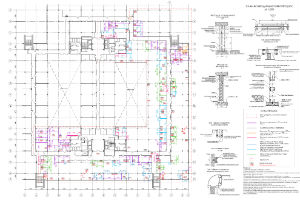 Designing implies development of working and sketch designs for construction, rearrangement, refurbishment or reconstruction of buildings and premises. Int-Ext Architectural office is developing all the necessary documentation of AS (architectural solutions) section. At the same time, there are three options for implementation of these works, out of which the client can always select the most suitable one.
Architectural concept development. This type of work is usually ordered by the clients, who are not completely sure about the scope of construction works, the architectural concept, materials applied and the budget. This stage is the most inexpensive one and can make up 20-40% of the entire working design cost (depending on the site complexity). Upon architectural concept development the customer receives an album of several sheets with the following information about the facility:
explanatory note containing the facility description;
premises plans (no preliminary measurements);
schematic sections without going into details;
3D-visualizations of the most important aspects.
Design project. This method of interiors architectural design is in great demand today. The difference between the design-project and the working design is 3D services and absence of detailed work out of assemblies, cross-sections, bindings, application of engineering systems elements. In other words, the architectural interior design-project shows first of all "how it will look like", but does not always give a detailed answer to the question of "how to do it?". However, existence of the design-project alone is quite enough for carrying out small refurbishments and rearrangements. The cost estimate for performance of works can be accurately calculated based on the design project. The cost of interior design development forms about 75% of the full working design. This project includes:
explanatory note with calculation of the areas, the facility specifics;
plans with dimensioning, disposition of equipment and furniture;
basic sections;
a full set of 3D-visualizations;
schedule of fit-out materials.
Architectural working design. This is a detailed working documentation with all carefully reviewed technical issues, as well as the application of adjacent design sections elements (first of all engineering systems) on plans and sketches. Having the architectural working design as basis, one can perform all civil and fit-out works. However, it is important to remember that this documentation is intended primarily for professional builders and engineers and it does not include 3D services. A person, who is not familiar with construction area, will not always easily read the working documentation, but it is very helpful for the specialist, and it gives answers to all the questions related to construction nuances. Any major project undoubtedly needs a developed architectural working documentation. It includes:
explanatory note with calculation of the areas, the facility specifics;
premises plans drawn up on the basis of accurate measurements with marking of equipment, furniture and elements of the project adjacent sections);
detailed elaborated cross-sections, assemblies, exploded views;
complete specification of applied construction and fit-out materials.
Our specialists will readily develop the right concept for you, perform site interior design project or a complete working design of architectural solutions, as well as they will monitor each stage of construction and installation works.
Feel free to contact Int-Ext specialists on any issue regarding architectural design and interior design in Moscow by the phone number: +7 495 135-0-777.